Gulp! Alive 4" Swimming Mullet - Rechargeable Pack. 10ct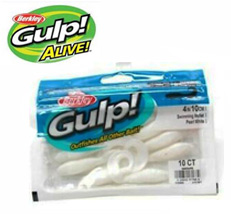 Gulp!® Swimming Mullet 10 ct Bag

The extreme scent dispersion of Gulp! expands the strike zone allowing you to catch more fish! Berkley Gulp! truly is the next generation in soft bait!Realistic head and body design
High action swimming tail
Features Gulp! extreme scent dispersion





Gulp! Alive 4" Swimming Mullet - Rechargeable Pack. 1/2 Pint Bucket
Gulp!® Swimming Mullet 1/2 Pint Bucket

The extreme scent dispersion of Gulp! expands the strike zone allowing you to catch more fish! Berkley Gulp! truly is the next generation in soft bait!Realistic head and body design
High action swimming tail
Features Gulp! extreme scent dispersion





Gulp! Alive 4" Swimming Mullet - Rechargeable Pack. 1 Pint Bucket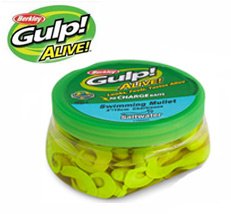 Gulp!® Swimming Mullet 1 Pint Bucket



The extreme scent dispersion of Gulp! expands the strike zone allowing you to catch more fish! Berkley Gulp! truly is the next generation in soft bait!

Realistic head and body design
High action swimming tail
Features Gulp! extreme scent dispersion





Berkley Gulp® 6 1/2 inch Saltwater Nemesis
Berkley Gulp® 6 1/2 inch Saltwater Nemesis 5 PK


The extreme scent dispersion of Gulp! expands the strike zone allowing you to catch more fish! Berkley Gulp! truly is the next generation in soft bait!

Water based scent dispersion
Minnow body with relentless fish calling tail action
Expand your strike zone with Gulp! scent dispersion





Berkley Gulp! Extruded Bloodworm

Saltwater Gulp bloodworm is a great bait to fish for a variety of species"
This bloodworm has a wavy body characteristic which gives it incredible action in the water
This has a straight body with tiny nubs along each side of the worm
Lifelike look, feel, action, smell and taste of a live bloodworm with less mess and more durability
Available in bloody color; measures 6-inch length



Gulp! Saltwater Chum 5 lb Pail reuseable.
Not Available at this time.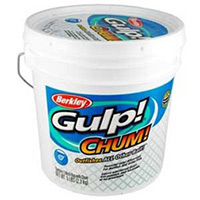 Gulp!® Chum - 5lb Pail



Berkley Gulp! Saltwater Chum uses the powerful scent that is in the Gulp! Baits to create a reusable chum that lasts for many hours. Use for all species of fish whether you are Reef Fishing or Shark Fishing.

No refrigeration needed
Rapid scent dispersion for all saltwater gamefish
Ideal for fishing shallow water structure



Due to the size and weight additional Charges will apply. We will email the cost to you for you to approve and pay. Thank You.

Peek-a Look at our Bucktails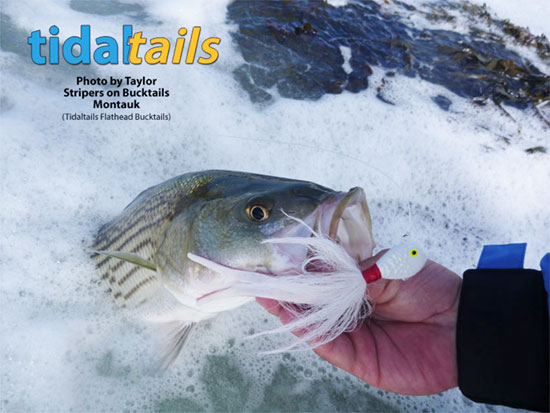 PayPal is a leader in security technology.
We use state-of-the-art technology to help prevent fraud, and our expert staff monitors transactions 24/7