FREE Shipping on Orders of $100.00 or more. Shipped Flat Rate USPS.

The Parrakeet'z Bucktails really gets them going when most other bucktails and lures are just not doing it. Unique action simulates the action of a fly.
Used as is, right out of the package no trailer or grub needed.We use premium northern saltwater deer tail and extra soft denier.


Back to Bucktail Index
Bonito Keet'z Bucktails - Fly-Like action used with light tackle spinning gear.

...

Learn More....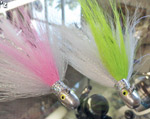 Parrakeet'z® Bonito keet'z Fly-Like Bucktails
Molded around 2x 2x Gami® Hooks.

Chrome like head with crystal flash neck. Same Fly-like action as the Parrakeet'z®. Used as is right out of the package. No trailer or grub needed. Made with premium northern saltwater deer tail with extra soft denier/silver foil trailer. Crystal flash added to the sides. Molded around a 2x 2x Gami Nickel Hook for larger fish.
Bonito Keet'z are great for Dorado, Bonito, Albies and more.

Proudly made in the USA.