Back to Main Photo Gallery.....
Click Here.

Striped Bass and Blackfishing at it's Best!
Spend a morning, evening, or full day with Capt. Rich Tenreiro, Co-host of neangling.com.
Rich is a good friend and an avid user of Tidaltails Jigs. Get on board with Rich for a day to remember.


Capt John Marino is one of the best Striper and Blackfish charter captains.
Plus John is one of the pioneers of Jigging Blackfish.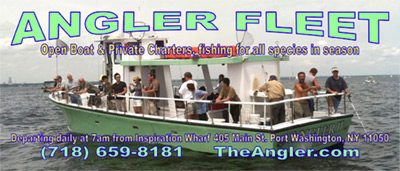 Ken Tokar and the Queens based Angler Fleet, to add a new dimension of service for those wishing to
partake in the bountiful harvest of the western Long Island ...


Come fish the protected waters of the Long Island Sound with Cos Cob Charters. We work hard to ensure that our clients not only catch fish, but have a memorable and enjoyable experience as well



"Capt. Jason Colby", a man who for many years made his living catching fish with a rod and reel. Capt. Jason has personally caught 24 Striped Bass over 50 lbs and took a Striper that topped the scales at 64 1/4 lbs


Ron Powers "On The Water Magazine"
Some purists might knock tog as strictly a "meat" fishery where artificials play no role – wrong! Mike Dumais and Frank Dalli have been targeting tog with Tidaltails jigs and spinning rods. The Tidaltails jigs come from an obsessed tautog hunter by the name of John Knight who hails from the land of the tog – New Rochelle, New York. I have to admit I was skeptical until I saw "Crazy legs" Dalli doing his patented tog dance with a monster tog that broke his heart and fluorocarbon off cleanly just above the knot.
I'm making way for a spinning combo and Tidaltails jigs for the next time I tangle with tautog.

Capt: Rich Tenreiro
R&G Charters
I have been black fishing for a long time and have not wanted to use anything but hook and sinker, until now!. The Tidaltails® Blackfish Jig'z are incredible and we will be using them on our charters.
Great lure John!
John Marino.....
Charter Captain.
John as you know after all these year of fishing i do not get excited up about fishing techniques .
Black fishing with your jig started and continues to keep" my passion re-ig-Knight-ed and burning like Haley's Comet " .Catching Blackfish is not just a fun thing for John, It's a Passion.