Fluke Stinger'z - Single or Tandem Hooks
Fluke Stinger'z - Tandem Hook Style.
Tidaltails Fluke Stinger'z™
Built for Fluke. Ideal for strip baits, such as bunker or whole squid. The second hook is a Lazer Sharp Nickel Hook with a rubber coated eyelet to keep it in place, replaceable and removable. Powder coat Finished, and extremely durable ! Hardly anything gets away from this one.



Click Image ...
Single Hook Stinger'z
™

- Terminator Style Tube Trailer.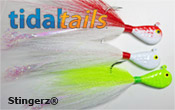 Single Hook Terminator Style Stinger'z

™

- Deadly!
The Terminator Style Stinger'z

™

are a single hook lure with a synthetic tube trailer and crystal flash. Finished with real northern deertail. These are lighter jigs that we use while stemming the tide or power drifting for fluke. It sports a Gamakatsu hooks and is built for durability.



Click Image ...
High Hook Teaser Rig - Drop loop teaser with Fluorocarbon leaders and Tidaltails Teasers.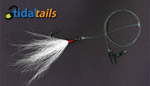 Fuke Hi-Low Teaser Rig

- Seaguar Fluorocarbon Leader with snap and Swivel. Double your chances of a hook up by adding a teaser above your Fluke Rat

™

or Stinger'Z

™

for some incrediable action.
Made with real Northern Deer Tail. The hook is a Eagle Claw O'Shaunessey Lazer Sharp Nickel Hook. Seriously Sharp!

Click Image ...
Stinger'z - Replacement Dipped Stinger Hooks.
Eagle Claw® Lazer Sharp Nickel Hooks.
(3 Per Pack )
Hook eyes are DOUBLE rubber dipped to keep them in place and for adjusting the hook higher or lower. This is a great Fluke Bucktail for the beginner or seasoned fluke angler. The tandem hooks makes it a deadly bucktail and hardly anything gets away.
Fluke Rat'z
™

- A unique Summer Flounder Jig.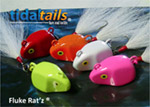 Fluke Rat'z™
A Truly Unique Fluke Lure - Much less hang up on the bottom.
The tapered nose, flat bottom and body contour make the Fluke Rat'z™ one of the best jigs for catching fluke. Built with Lazer Sharp Nickel Hooks. Finished with a post baked powder coat for maximum durabilty. Available from 1 to 4 ounce and a choice of colors. Perfect shallow to mid depth fluke jig.

Click Here to See Our Fluke Rat'z ....